Landscaping boulders are a popular choice to create a focal point for your yard or as an accessory to other landscaping design. Boulders are a great way to create a natural look and appeal that complements the style of any home.
Whether you are in a brand new home and trying to figure out your first landscape design, or you have been looking at the same lawn for a while now and need to find a simple way to spruce it up, boulders are the perfect choice. Unlike grass and other plants, they don't require any water or ongoing upkeep, and instead of getting worn out and looking older over time, they age perfectly as a natural part of the landscape.
Boulders are also a simple way to create dimension and texture for a slope that you can't utilize well. Adding boulders as a retaining wall can turn a sloped yard with limited use into a stepped yard with areas for grass, plants, gardens, and more. When you have them installed correctly, boulders are a great way to control erosion and runoff, and you can even add an outdoor lighting system to create a dramatic lighting effect in your yard at night.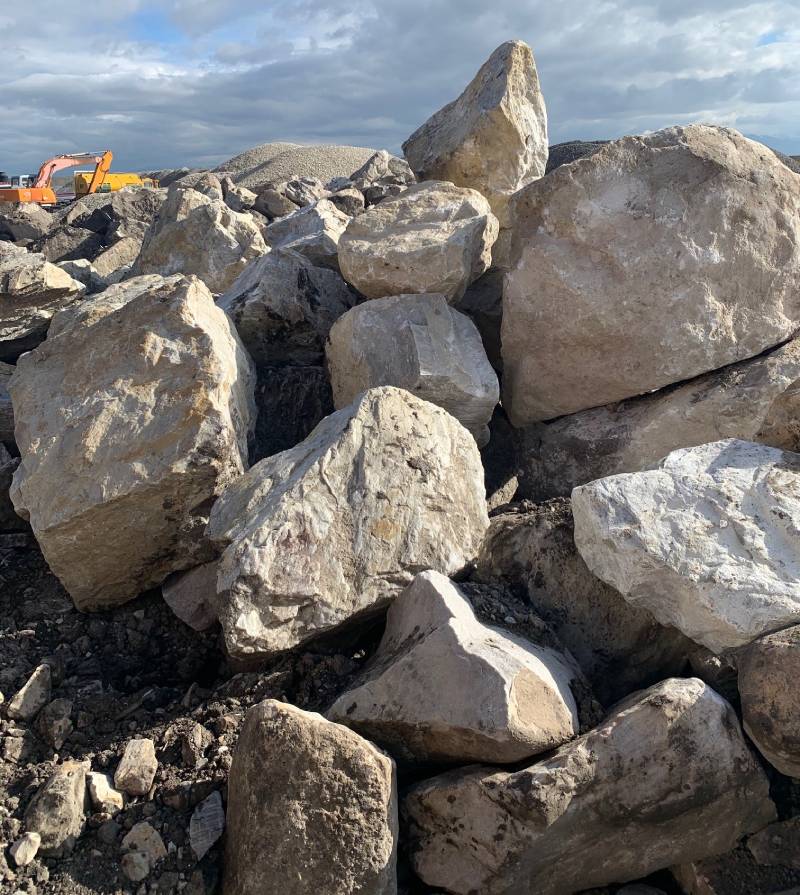 Benefits of

Landscape Boulders
When you add landscape boulders to your yard, you get several benefits:
Improved curb appeal for your home and yard by filling bare corners and bringing together a landscaped look in your yard
Virtually no maintenance or upkeep required
Weatherproof and able to withstand even the harshest environments
Affordable landscaping element to complement other plants and features
Choosing the Right Boulders
for Your Utah Home
R.A. Johnson Excavating & Rock in West Valley City has a wide variety of rocks and boulders you can use for your landscape. Come see our huge selection to choose the ones that will work best in your yard. We can even help you figure out which ones you need based on how you plan to use them, and have them delivered right to your home or your commercial property.
One key element to remember in selecting your landscape boulder is the size. Many people looking at rocks at R.A. Johnson Excavating & Rock think they are too big, but when they are set in your yard you will need to bury anywhere from about one-fifth to one-third of the rock underground so it looks natural (you don't want it to appear as though it fell out of the sky and landed in your yard). For that reason, you often need a larger boulder than you would think initially.
Our experienced team of rock experts has been working with landscaping boulders since 2001 and we are here to help you choose the right size and the right number for your yard. We can advise of the best boulders for various applications, such as in a garden, as a focal point in the yard, or as a retaining wall or other feature to manage the slope of the yard and control erosion. We have a huge selection of boulders in all shapes and sizes—from rugged to smooth and large to small—and we're here to help.