Decorative & Functional Landscaping Rocks
Looking for landscaping rocks to boost the beauty of your West Valley City home or business property? In need of base materials for a construction or landscape project? No matter what your landscaping needs, R.A. Johnson Excavating & Rock is the company to call.
Landscaping
Rock Products
We're a leading northern Utah supplier of high-quality decorative rocks and materials for use in landscaping and site development. Decorative rocks are the perfect addition to any yard because they are easy to maintain, it provides a protective barrier around your yard to control drainage, and it lasts forever. Decorative rocks are ideal to stand up to high levels of foot traffic and doesn't require any water or other ongoing work to keep it looking amazing year after year. It comes in a wide variety of styles and colors so you can choose the perfect landscape for your home or business. 
We have everything you need, ready for sale and delivery to cover your entire yard with landscape stone, or for smaller projects like water features and stormwater drainage. Landscape rocks are also a perfect choice to cut down on water usage by creating a beautiful desertscape that is eco-friendly and looks amazing. When you come to R.A. Johnson Excavating & Rock for your decorative rocks, you'll always receive competitive pricing and outstanding service.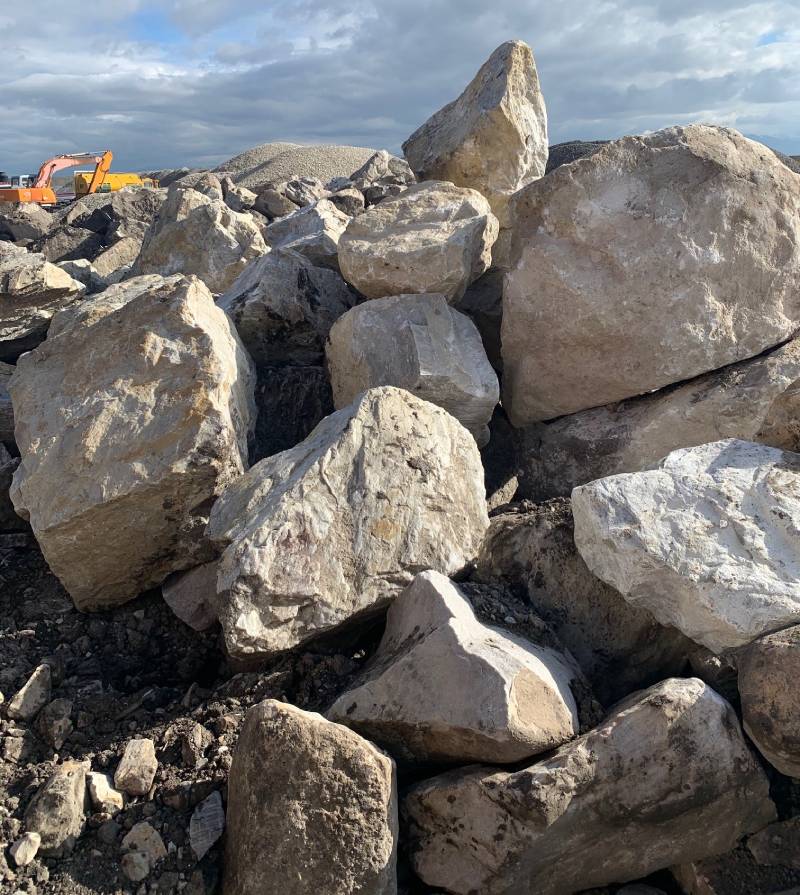 Top Soil
Sales & Delivery
When you need premium top soil, we're your best source. Our screened blends are ideal for any top soil application, and we can provide you with clean fill dirt to eliminate low areas or build up ground elevation for construction. We're ready to accommodate your needs, and our crew can deliver any amount of top soil directly to your northern Utah property.
R.A. Johnson Excavating & Rock carries a selection of quality gravel for residential landscaping projects and commercial site development. We have granular-, pea- and pebble-size gravel as well as larger rock fragments, and you can choose from several different shades. Our gravel can be used for decorative and functional purposes, and we're happy to provide gravel delivery.
We stock a variety of landscape boulders in every size you could possibly need, with colors ranging from neutral tan and gray to striking red and white. Whether you want a one-of-a-kind statement stone to enhance the look of your property or a few large boulders to help control erosion, you'll find plenty of options with us – and you can arrange for delivery anywhere in or around West Valley City.
Large, irregularly shaped rock slabs make for beautiful walkways, paths and patios – and R.A. Johnson Excavating & Rock has a vast array available for sale and delivery. Our flagstones come in many colors and sizes, and we can help you find the right landscaping rock slabs to enhance the look of your northern Utah residential or commercial property.
The decorative cobble we sell comes in a range of gorgeous colors and can be used in any landscaping project. We also have riprap to protect soil on slopes and shorelines from erosion. As with all of our landscaping rocks, our cobble and riprap are ready for delivery to your West Valley City project site.
If your home or business property is sloped, the soil could erode away. Our retaining wall rocks can solve the problem, giving the slope the support it needs – and our wallstone is also quite attractive, so it makes for a unique decorative accent. The retaining wall rocks we offer for sale and delivery are also great for creating landscape edging, planter boxes and seating walls.
R. A. Johnson Excavating & Rock can provide you with all of the landscaping rocks and base materials you need for your residential or commercial project. For more details, or to arrange for delivery in or around West Valley City, Utah, reach out to us today.